We are the Johnson County Democratic Women, North and South
We are sister organizations, working together to engage women in politics and help get Democrats in Johnson County elected
North Meeting
When: November 17th
6 pm Networking
6:30 Business meeting
Where: Lucky Brewgrille, Mission, KS
Corliss Jacobs spent a decade of summers organizing and leading teacher teams to conduct English language, leadership, peace & friendship camps for teens in various Eastern European countries and China after her retirement as a teacher of high school composition and literature. Then she joined sever Witness for Peace delegations to various Latin American countries, and most recently was a member of a fact-finding delegation with CrossBorder Network to Honduras.
She is a political activist with JOCO MoveOn (soon to be JoDotte MoveOn,) Indivisible KC, Swing Left, Kansas Voter Project, and CrossBorder Network. She is most concerned about white Americans' denial and ignorance of white privilege and its history and is a strong advocate of justice and equity.
She will speak about the causes of the current migration of families from Honduras, as witnessed by the CBN delegation during their nine-day trip, and explain how the conditions there are tied to US government policies.
About Cross-Border Network for Justice & Solidarity

Economic globalization, driven by unaccountable transnational corporations and an ethic of competition, is driving down living standards of workers around the world, despoiling communities, and weakening institutions which foster democracy and protect human rights.
The Cross-Border Network for Justice and Solidarity believes that an alternative to this type of globalization must be created by building international bridges of solidarity and mutual aid between workers and communities of working people. We educate and organize for social and economic justice by connecting workers and communities across borders and who cross borders.
South Meeting
When: November 21st 6:30pm
Where:
Old Shawnee Pizza
19617 W. 101st St
Lenexa, KS 66220
Project 1020 provides shelter, support, and compassion to all homeless adults, while helping them utilize community resources to achieve their goals.
I am asking everyone to in and make a difference. Let our officials know that we can't continue to ignore the issue we have, right here in our wealthy Johnson County. Cold weather is coming; actually, in my opinion, it is already here! My phone is ringing constantly with individuals desperately looking for shelter. It breaks my heart. We definitely need a year round shelter, but right at this moment we need shelter for this coming winter. Project 1020 is feverishly searching for a location that the cities in Johnson County will allow for the shelter this season. Please join in and help us help those that are experiencing homelessness in Johnson County!
To learn more, including how you can help, please go to Project 1020.
We are excited to hear her speak!
Going to meetings is a great way to meet like minded friends, get new and important information, and meet the leaders in our community who are making a difference! And, it's just really fun! Please join us!
Contact us if you have any questions: Anne Pritchett, President, JCDW North, 913.940.4414 or Becca Steffens Peck, President, JCDW South, 913.634.0506
To help Project 1020 and the homeless population they serve, we're collecting new socks and gently used coats at the South meeting on November 21st.
WE ARE MOVING!
JCDW South will begin holding general membership meetings at the new
Olathe Indian Creek Library
16100 W 135th St
Olathe, KS 66062
You are welcome to bring your dinner to the library. Or purchase from the on-site deli. Since the library closes at 8 pm. We are shifting our meeting time:
6:00 – 6:30 pm Social
6:30 – 8:00 pm Presentation and Business Meeting
Thank you for all you do!
Becca Peck President JCDW South
Everything election night…
To verify your registration status and to see a sample ballot for your precinct, go HERE. You can also verify your registration and request an advance ballot HERE. Printing off a sample ballot is a great way to research and pre-select your candidates before you head to the polls!
Voting Guides Here…
If you are voting by mail, follow the instructions EXACTLY. Your signature on the envelope MUST match the signature on your drivers license.
Photograph the signed ballot and envelope for your records.
Make sure your ballot will arrive at the specified location by the deadline!
Anyone can request a paper ballot when voting in person!
Vote down the ballot. Don't stop at the candidates you know at the top of the ballot. MAKE SURE you go to the bottom of the ballot before you submit your vote. The local races often affect our day-to-day lives more than the national races.
If voting on the new machines, PRINT OUT THE VERIFICATION RECEIPT, MAKE SURE YOUR SELECTIONS ARE CORRECT AND THEN FEED IT INTO THE MACHINE TO CAST YOUR BALLOT. Do NOT skip this step.
To find your Kansas state representative and senator, along with the House and Senate district in which you live, go HERE.
Constitutional Amendment…
There is a Constitutional Amendment on the ballot this year. We recommend voting YES on this Amendment. For information about the Amendment, see this video by Davis Hammet of Loud Light… https://youtu.be/21idbqUMXLo
Election Night Watch Parties
Looking to join in the election night excitement? Here are some of the Democratic watch parties in our area!
The 2020 NFDW Convention
Lawrence, Kansas-June 10-14, 2020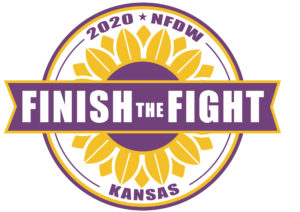 The theme for the 2020 NFDW Convention is a call-back to the Suffrage Movement. In 2020 we commemorate the 100th anniversary of the passage of the 19th Amendment, giving women the constitutional right to vote. At such a time, we wanted to honor our progressive roots while keeping our eye on the future.
How can we Finish the Fight?
Equal Rights Amendment
Voter Suppression
Poverty and Class Inequality
Healthcare and Abortion Access
Systemic Racism and White Privilege
LGBTQ Righs and Discrimination
Threat of Climate Change
What does FinishtheFight mean to you?
Learn ways you can Finish the Fight at the National Federation of Democratic Women's 2020 National Convention in Lawrence next June. See our website for details!
#FinishtheFight #NFDW2020 #NFDWConvention #FightLikeAGirl #KFDW