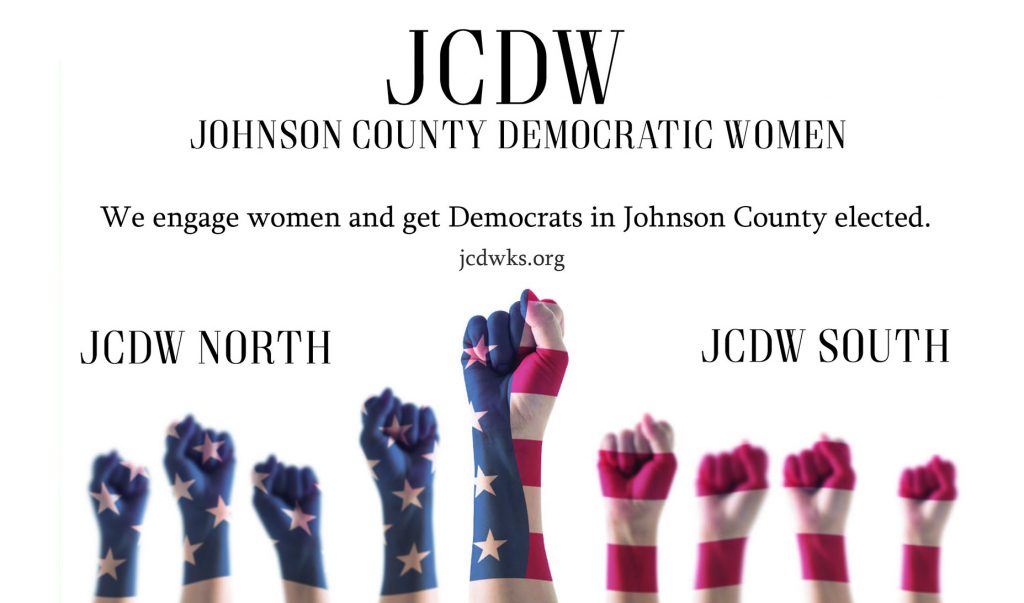 We are the Johnson County Democratic Women, North and South
We are sister organizations, working together to engage women in politics and help get Democrats in Johnson County elected.
North ZOOM Meeting
Thursday July 7, 2022
Come at 6:00 to socialize or at 6:30 for the meeting.
This meeting is hybrid. Either join us at the JoCo Dems office or on Zoom.
Special Guest:s Sheila Albers and Clay Norkey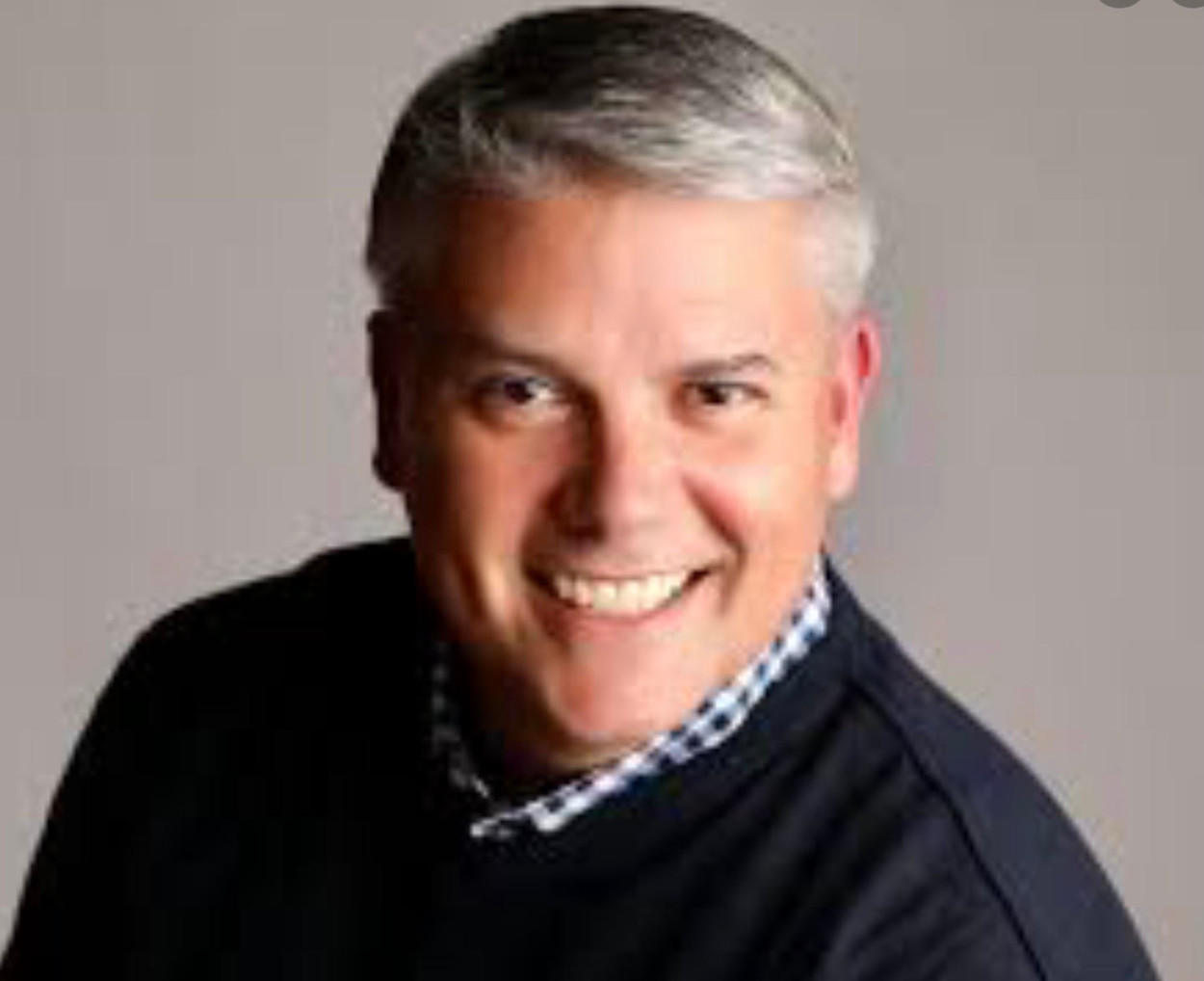 JCDW North is pleased to welcome Sheila Albers and Clay Norkey as our speakers on July 7th. Sheila and Clay were instrumental in recruiting candidates for the November 2022 election. Clay is an attorney who recently ran for mayor of Overland Park. Sheila is an education administrator who is running for KS State Board of Education. Their combined expertise has been instrumental in recruiting high quality candidates among Johnson County Democrats.
South ZOOM Meeting
Thursday July 21, 2022
Come at 6:00 to socialize or at 6:30 for the meeting.
This meeting is
hybrid
. Either join us at the JoCo Dems office or on
Zoom

.
Special Guests: Jim & Jennifer Schmidt from Uplift (Delivering Care and Compassion to the Homeless)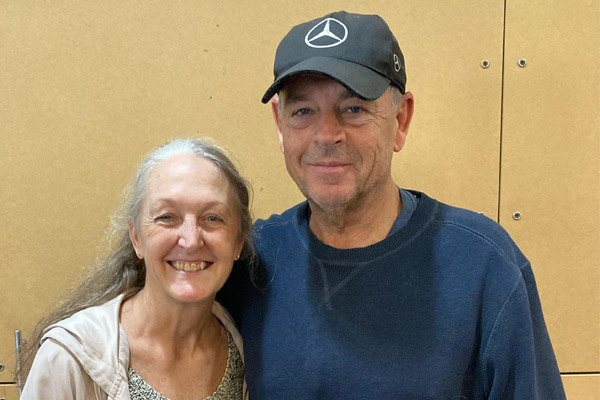 Jim and Jennifer have been volunteering with Uplift, both serving weekly and cooking for their monthly Sort Saturday event, since 2002. The Schmidts have made caring for Kansas City's homeless a large part of their lives ever since. The Schmidts not only open their home every Thursday night for dinner and Bible study for their homeless friends, but they also serve overnights and mornings at Johnson County's only overnight cold weather shelter Project 1020.
As active Uplift Board of Directors, they are instrumental in finding new ways to serve Kansas City's homeless population, but it is working directly with the homeless that is their found passion that led them to being a part of the Eden Village of Kansas City team.
Flip it Blue is Saturday, July 9th from 4-8 PM!
At a time when SCOTUS is denying our individual freedoms and handing them over to state governments, it is more important than ever to elect state representatives who will work for we the people. Here in Kansas, Republicans continue to maintain a supermajority in the legislature, meaning they can pass devastating laws and overturn any veto that might get in their way. We must break this supermajority by FLIPPING MORE HOUSE SEATS BLUE!
Join us on Saturday, July 9th from 4-8 PM at Sar-Ko-Par Trails Park in Lenexa. We'll have food, a silent auction, a fabulous raffle, balloon animals, and cotton candy.
We will also have a chance to meet and mingle with like-minded friends, candidates, and representatives, including Sharice Davids, Lynn Rogers, and Chris Mann.
Most importantly, we will RAISE MONEY for candidates running for state and local office. The proceeds from this event will go directly to candidates running in 2022 — the more we make, the more we can spend! Tickets cost $25 for members, $30 for nonmembers, and $15 for children under 10 (yes, bring the kids). Additional donations are WELCOME. We set the prices low to include as many people as possible, but if you can, open your wallets and give big!
Thank You, Governor Kelly!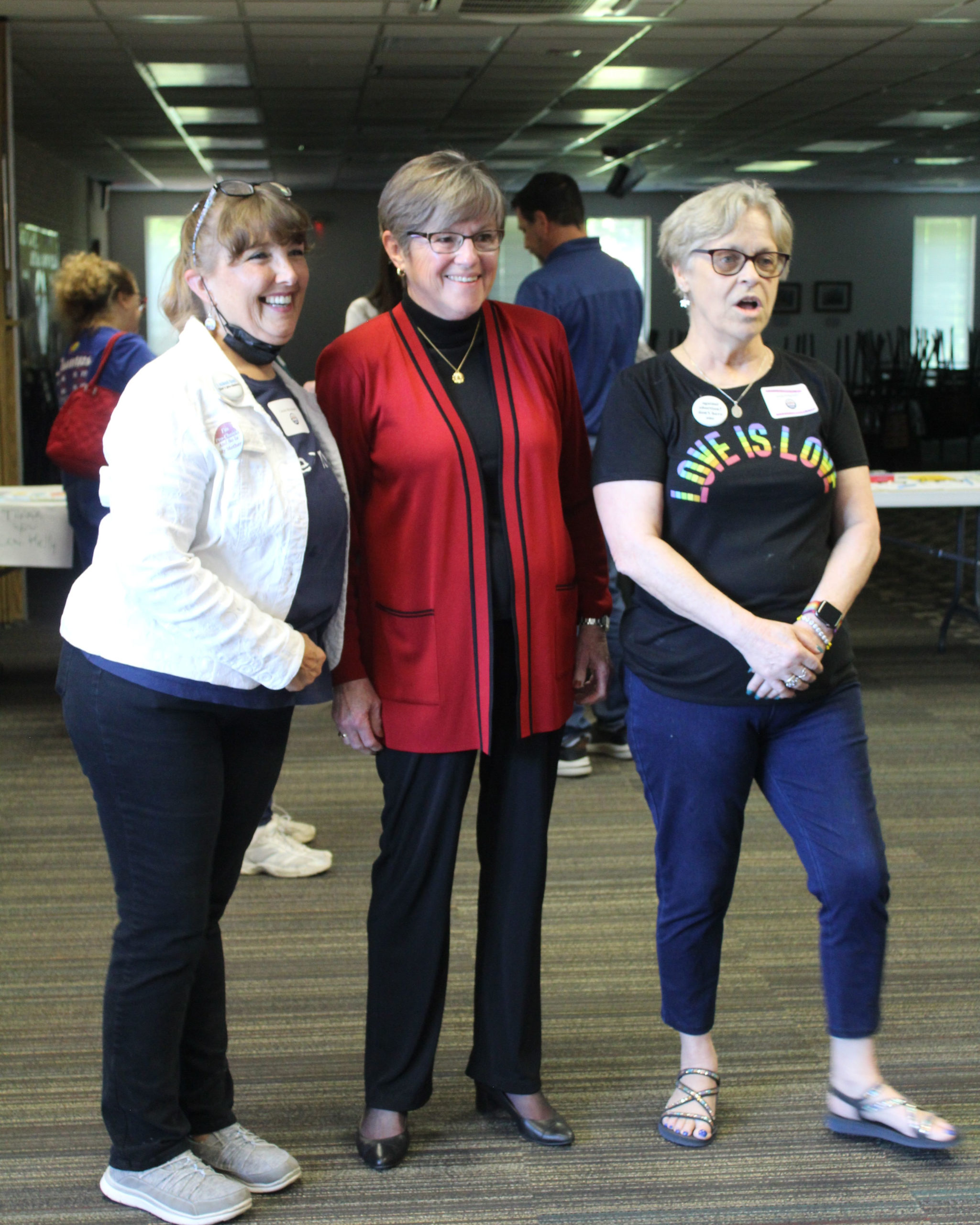 It was a pleasure to welcome Governor Laura Kelly to Johnson County and have her address our JCDW of Kansas Joint Meeting on June 2nd. She imparted the importance of voting, promoted the Golden Shovel Award (now won 2nd consecutive year), investment in roads and highways, and the Food Tax. She has pulled Kansas from nearly last place under Brownback to first in the nation for business investment winning the coveted "Golden Shovel for economic development last year, and again, this year).
Thank you too, for the volunteers who assisted with set up and tear down and all that came. We had about 125.
Points from Governor Kelly's visit
Governor Kelly's talk focused on her economic and business successes. She thanked us for working to get her elected in 2018, and asked us to work even harder this year.
After several years trying to eliminate the food tax that was imposed to offset the disastrous Brownback tax cuts, Governor Kelly succeeded this year in ending the food tax in incremental amounts over the next few years.
Governor Kelly has prioritized education funding, in contrast to the Brownback education cuts.
The Site Selection magazine awarded Kansas the Governor's Cup, given to the state with the most capital investment and economic development projects per capita. In two years, with Governor Kelly's leadership, Kansas has moved from #20 to #1 with an influx of $8.7 billion in business investment.
Brownback let our roads and highways fall into disrepair as he used the Kansas Highway Fund to fill budget holes. Governor Kelly has invested money in the highway and bridge infrastructure for maintenance and repair.
Governor Kelly inherited a $350 million budget deficit and managed it into a $3 billion surplus. She has cut taxes for everyday Kansans and has added to the rainy day fund.
Governor Kelly cut property taxes for everyday working Kansans and provided more tax credits for veterans and teachers.
At JCDW, our passions run with a woman's right to determine her life path and health decisions, in trans girls getting to play team sports, and peaceful transfer of power. But these financial details are essential in running a state, and the economy is important to everyone, but especially conservatives. Get ready to tell a few conservatives about her financial successes!
Please consider donating to Governor Kelly's campaign. It is the most important race in our state this November because we need her to have our backs when it comes to women's reproductive health, LGBTQ rights, and voting rights. It's going to take a real team effort to raise the funds needed to court voters across this state.
Postcard Project
My-O-My !
We had about 30 people attend our first ever Postcard Writing event and we completed ALL the Vote No Aug 2nd postcards and almost ALL the Mike Kelly – THESE WOMEN ROCK!
Thank you to all who attended to make this a fun, lively, productive and engaging event. I look forward to working with you on this fight.
About Us
Johnson County Democratic Women North and South are part of the Kansas Federation of Democratic Women, which is part of the National Federation of Democratic Women.
Our mission is to empower women to run for office and to support the election of like-minded Democrats to state and local office. We do this through education and training, but especially through donations to qualified candidates. Your financial donation to either of our organizations will go directly to Democratic candidates running in Johnson County.
Donate Today!