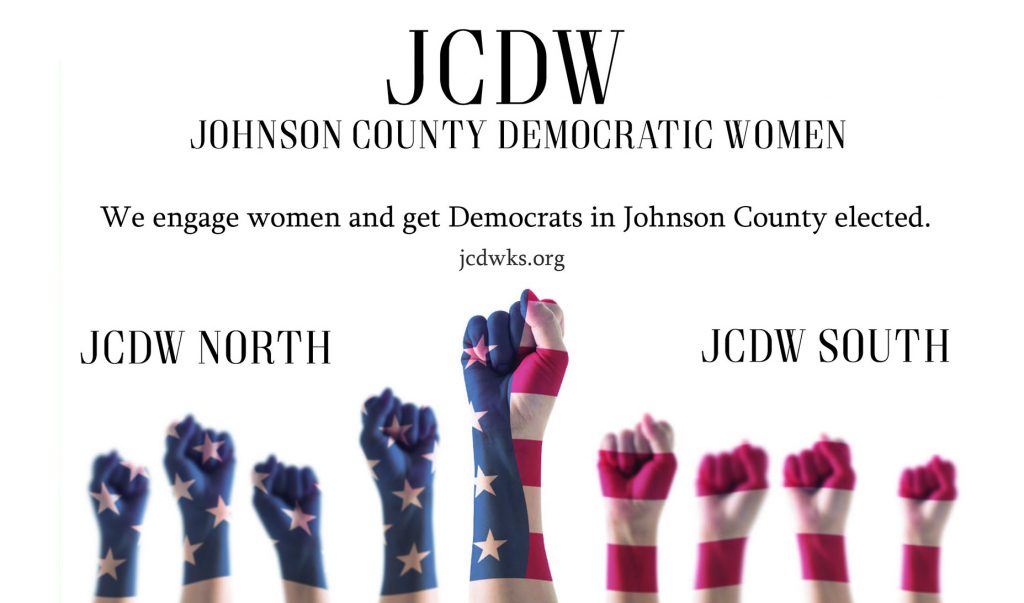 We are the Johnson County Democratic Women, North and South
We are sister organizations, working together to engage women in politics and help get Democrats in Johnson County elected.
JCDW North/South Joint Meeting with Governor Laura Kelly
Thursday, June 2, 2022
Location: Shawnee Mission Unitarian Universalist Church; 9400 Pflumm Rd, Lenexa, KS 66215
Come at 6:00 to socialize or at 6:30 for the meeting.
This month, JCDW South and JCDW North have teamed up to welcome special guest Governor Laura Kelly!
Growing up in a military family, Laura Kelly learned the values of integrity, accountability and resilience that she's carried with her throughout her career in public service.
As Governor, Laura Kelly fulfilled her promise to be a moderate leader who would put Kansas back on track after years of fiscal mismanagement, harmful budget deficits, and underfunded schools. She's worked with both parties to balance the budget, fully fund schools, grow the economy, and rebuild the state's infrastructure – all while guiding the state during unprecedented times and fighting to cut costs for families, including axing the grocery tax.
During the Governor's first term, Kansas continues to break records for new economic development projects. Under Kelly, Kansas has seen a record of over $8.6 billion dollars of investment in new business initiatives and the creation and retention of over 41,000 jobs. There are over 425 new infrastructure projects in development, including fixing roads, rebuilding bridges, and expanding efficient and reliable internet access to rural communities. In 2021 alone, Kansas exported $53.35 billion in agricultural goods for the first time in a decade.
Under Laura's leadership, CNBC named Kansas the "Comeback State of 2019," and in 2021, Kansas received the "Golden Shovel" award for excellence in economic development. Governor Kelly earned the prestigious "Governor's Cup" from Site Selection Magazine for record economic growth in 2021 – ranking Kansas first in the nation for economic development investment per capita.
Previously, Laura was executive director of the Kansas Recreation & Park Association and served in the Kansas Senate, where she built a reputation as a no-nonsense leader who worked with both Republicans and Democrats to build common ground and get things done.
Laura lives with her husband, Ted Daughety. They raised their two daughters, Molly and Kathleen, in Topeka, where they both attended public schools.
Join Team Kelly to help Laura continue serving Kansas for a second term to keep achieving record success for Kansans.
On June 2nd (first Thursday), we are thrilled to have Governor Laura Kelly come out to talk to our groups. Allison Hougland and Dawn Olney, respectively the South and North programming coordinators, worked hard to bring us this special treat. The date falls on North's regular meeting date by virtue of the fact that this is when the Governor could fit us into her busy schedule.
On June 16 (third Thursday), our groups will join forces again to host a postcard writing get together at the JoCo Dems office at 8971 W 75th St, Overland Park, KS 66204. As always, the meeting will run from 6-8 PM, but it will be a time to work and socialize. Our efforts will go toward defeating the August 2nd Constitutional Amendment aimed at ending a woman's right to bodily autonomy in Kansas.
Flip It Blue
JCDW South's biggest annual fundraiser, Flip it Blue, is right around the corner, and we need your help to make this the best event ever!
Raffle items needed: In addition to being a crowd favorite, each year the raffle brings in thousands more that we turn around and donate to Democrats running for state and local office. With the entire Kansas House of Representatives up this year, we've got a lot of races to support! You can support our efforts by donating a raffle item or basket. Please contact JCDWS with your donation pledges.
Early Bird Special: Early ticket sales help a ton when the caterer (this year, a food truck), asks for a head count. So we're offering 2 free raffle tickets for each Flip It Blue ticket purchased by June Friday, June 24th.
This just in: We will have LIVE music!
When: Saturday, July 9th from 4-8 PM
Where: Sar-Ko-Par Trails Park and West 87th Street Parkway, Lackman Rd, Lenexa, KS 66215
Tickets
Member: $25
Nonmember: $30
Child Under 10: $15
We strive to make this event as family friendly and inclusive as possible, but if you can donate a bit more, we welcome your contribution and honor your efforts to help move Kansas Forward. Special recognition will go to those who donate at the following levels (unless you request anonymity):
Sapphire: $50
Royal: $100
True Blue: $250
Our THEME is patriotism, so come in

red

,

white,

and

blue

.

Feel free to get competitive; prizes will go to the most patriotic outfit.
This year, we will be joined by candidates running in the 2022 election including
Sharice Davids, Lynn Rogers, and Chris Mann!
2022 NFDW Convention (51st Annual)
On behalf of the 2022 National Federation of Democratic Women (NFDW) Convention Committee, we are pleased to announce that registration for the Virtual 2022 NFDW 51st Convention is now open!
The theme for 2022 is Good Trouble… Necessary Trouble.
Friday, June 10, 2022 11:00 AM (EST)
Saturday, June 11, 2022 11:00 AM(EST)
Our Virtual Convention will be hosted on Zoom. Details to follow…JUNE 10-11, 2022
Banned Book Brunch
Join us the First Saturday of each month to dive deeper into what the @GOP and Rev. Shaw Moore don't want you, or your kids, to learn.
This month's brunch will take place on Saturday, June 4th from 11-1, where we will continue our discussion of The 1619 Project.
Register in advance for this meeting:
About Us
Johnson County Democratic Women North and South are part of the Kansas Federation of Democratic Women, which is part of the National Federation of Democratic Women.
Our mission is to empower women to run for office and to support the election of like-minded Democrats to state and local office. We do this through education and training, but especially through donations to qualified candidates. Your financial donation to either of our organizations will go directly to Democratic candidates running in Johnson County.
Donate Today!