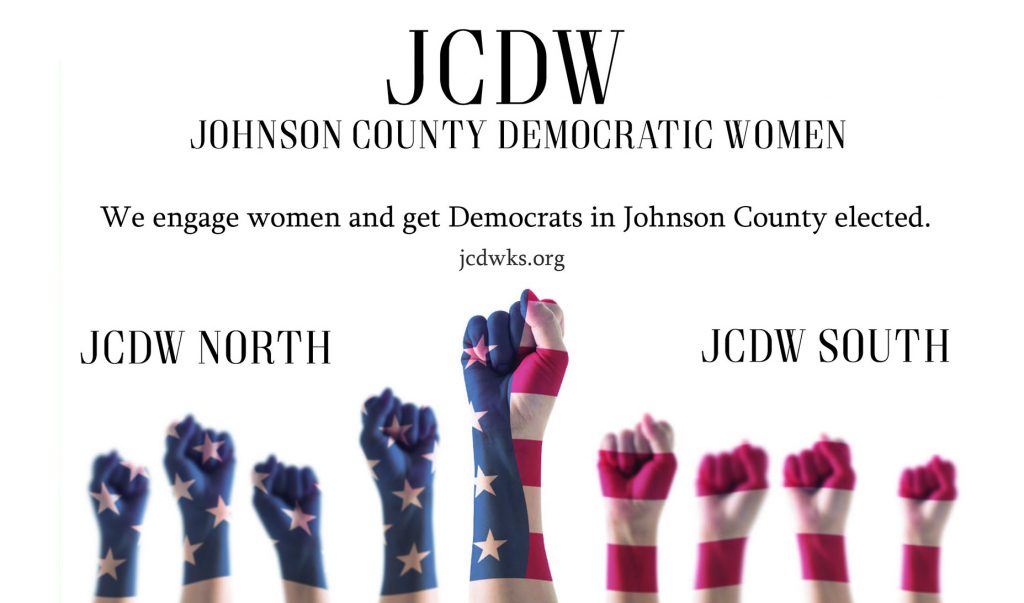 We are the Johnson County Democratic Women, North and South
We are sister organizations, working together to engage women in politics and help get Democrats in Johnson County elected.
North ZOOM Meeting
Thursday June 3, 2021
Come at 6:00 to socialize or at 6:30 to hear from our speaker.
Special Guest: Vicki Hiatt, chair of the Kansas Democratic Party
Vicki Hiatt, chair of the Kansas Democratic Party, will be our speaker. She will address rural outreach and other policies and programs the Kansas Democratic party is pursuing.
Vicki has a Master's degree in Special Education and Teaching, and taught in the Shawnee Mission School District. She has been a CASA volunteer, and member of Democratic Party organizations.
South ZOOM Meeting
Thursday June 17, 2021
Come at 6:00 to socialize or at 6:30 for the meeting.
Special Guest: LGBTQ Rights Activist Jae Moyer
Jae Moyer (They/Them/Theirs) is a candidate for the Johnson County Community College Board of Trustees, and a local Johnson County LGBTQ+ rights activist. Jae currently serves on the board of Equality Kansas of Metro Kansas City, where they have helped speak up in favor of non-discrimination ordinances across Johnson County. They also serve as one of the two committee members to the Kansas Democratic Party's state committee, on behalf of the KDP's LGBTQ+ caucus. Jae served as a Joe Biden delegate to the 2020 Democratic National Convention on behalf of KS' third congressional district.
Save the Date
JCDW South is having our annual fundraiser on Saturday, August 7th. This will be OUTDOORS, IN PERSON — our first chance to meet face to face as a group in over a year. Details are still being worked out, but be sure to mark your calendars. You won't want to miss it!

PRIDE MONTH is held in June to commemorate the 1969 Stonewall uprising that took place in Manhattan. More than fifty years later, we continue to need more LGBTQ representation at every level of government who can speak out against the groundswell of attempts by radical Republicans to undermine the rights and, in some cases, the very humanity of people based on their sexual orientation or gender identity.
In honor of Pride, JCDW South has invited Jae Moyer to speak to us. Jae is an LGBTQ activist and will hopefully be voted onto the Johnson County Community College Board of Trustees. JCDW North, meanwhile, will hear from Vicki Hiatt, the chair of the Democratic Party, to talk about the recent legislative session, including attacks against transgender individuals.
If you'd like to get involved, here's what's happening around town:
JoCo Pride June Meetup
Wednesday, June 2, 2021 at 6 PM CDT – 8 PM CDT
JUNE MEET UP: https://fb.me/e/2ksfmH4YC
PRIDE MONTH AT SERVAES BREWING CO:
10921 Johnson Drive, Shawnee, KS
EVENT INFO: We have so much fun planned for you for Pride Month! Throughout the month, we'll release FOUR rainbow-inspired beers and NEW pride merch, host food trucks and raise money for the Kansas City Pride Community Alliance and I Support the Girls Kansas City! We hope to see you in June to help us celebrate PRIDE!
WEEK 1: Saturday, June 5, 2021 at 11 AM CDT – 10 PM CDT
WEEK 2: Friday, June 11, 2021 at 2 PM CDT – 10 PM CDT
WEEK 3: Friday, June 18, 2021 at 2 PM CDT – 10 PM CDT
WEEK 4: Friday, June 25, 2021 at 2 PM CDT – 10 PM CD
Servaes brewing: https://fb.me/e/2j5qUuaGg
South May Meeting Recap
I cannot tell you how excited I was for Prairie Roots to launch and for JCDW South to be one of the first to gather info!
A great deal of thanks is due Peyton Browning – she was informed, excited, engaged, and handled the Q&A like a pro. We learned about "Deep Canvassing" to build solid relationships with voters that endure over time (as opposed to traditional canvassing, where we drop by to remind people to vote every year or so). If that sounds like something you'd like to learn about, let me know – we'll be assisting Prairie Roots in the coming months.
GIFT CARD
Each month we have a drawing for a $10 gift card if you bring a friend. These gift cards are NOT DONATED, they are purchased in order to support our local businesses.
If you know of any Johnson County, Progressive, Women-Owned businesses – let us know!! We'd love to direct business their way. The participants must agree to have their business promoted across all of our Democratic platforms.
Our May winner was Laura Wiltanger, who received $10 to Junque Drawer.
ACTION
In honor of Pride month, our action for June is to sign up for Amazons SMILE program using Johnson County Pride. Every time you shop at Amazon, you'll be supporting this organization (at no cost to you). Sign up here.
See you online soon!
Cassie Woolworth
President, JCDW South
North May Meeting Recap
Suzanne Gladney from Migrant Farmworkers Assistance Fund told us about the issues and challenges our migrant farmworkers face. Workers travel a circuit around the US as crops ripen in different seasons. They usually spend only a few weeks at their homes every year around December to January.
A partial list of services provided by Migrant Farmworkers Assistance Fund includes:
Dental and medical needs. including prenatal care, immunization, and Medicaid applications
Legal assistance such as naturalization, migrant and immigration issues, and public health eligibility
Weekly food bags, meals and snacks for educational activities, classes for healthy food preparation, food assistance applications
Education such as GED classes, ESL, Head Start, financial aid applications, translation services for school conferences
There are 7 students graduating from high school this year, and they are very proud of these students. Most are attending college.
Migrant workers pay taxes in the form of sales, FICA and Social Security.
JCDW plans to have a supply drive as the workers arrive in a few months to start the peach and apple harvest.
This is a diagram from a talk I saw in September: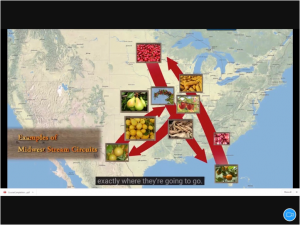 Johnson County Democratic Women North and South are part of the Kansas Federation of Democratic Women, which is part of the National Federation of Democratic Women.
Our mission is to empower women to run for office and to support the election of like-minded Democrats to state and local office. We do this through education and training, but especially through donations to qualified candidates. Your financial donation to either of our organizations will go directly to Democratic candidates running in Johnson County.
Donate Today!