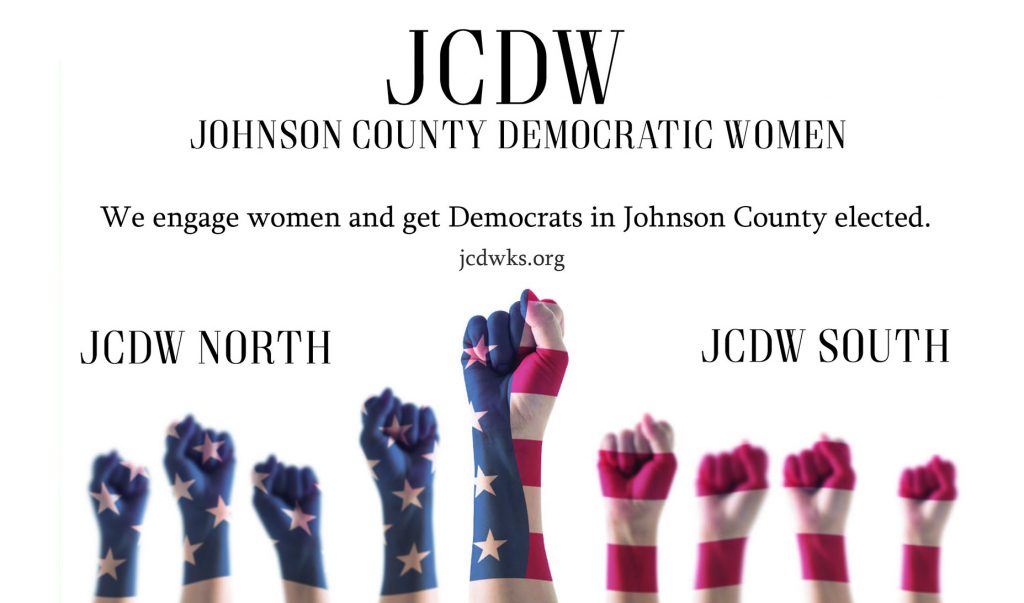 We are the Johnson County Democratic Women, North and South
We are sister organizations, working together to engage women in politics and help get Democrats in Johnson County elected.
North ZOOM Meeting
Thursday May 5, 2022
Come at 6:00 to socialize or at 6:30 to hear from our speaker.
Special Guest:: Keti Maghradze-Lindeman will join us to talk about the Russian invasions of Ukraine and the Republic of Georgia.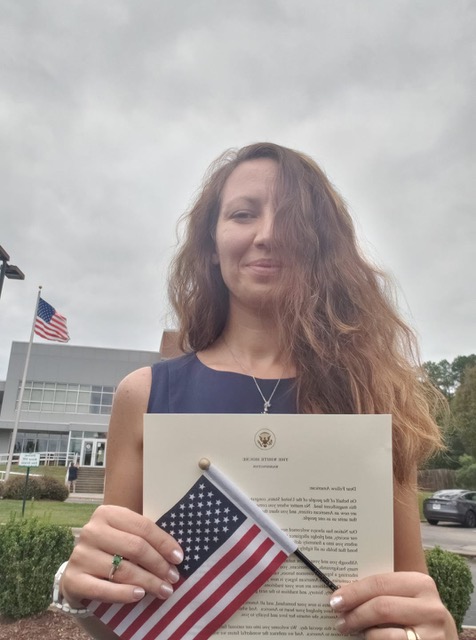 Keti Maghradze, MA in social sciences, born 1984, Tbilisi, Georgia. From 2007 to 2012 she worked for the US Embassy in Georgia and with the US Marine Corps and worked as an interpreter on numerous diplomatic and military missions and training operations. From 2012 to 2015 she worked with the Georgian Ministry of Culture and Monument Protection as an interpreter for the minister's office. Starting from her university years, she worked with Georgian and Polish debating organizations as a coach and judge for youth debates. She currently works for Autism Therapeutic Services in Fayetteville, NC as an administrative assistant and recently started volunteering for a nonprofit called Ukrainian Efforts which delivers relief and medical supplies to the front lines in Ukraine.
South ZOOM Meeting
Thursday May 19, 2022
Come at 6:00 to socialize or at 6:30 for the meeting.
This meeting is
hybrid
. Either join us at the JoCo Dems office or on
Zoom

.
Special Guest: Claire Iwai Reagan will tell us about "Freedom to Learn"
My husband, Scott, and I have three kids — Evan 7, Abbie 5, & Isaac 1 — Fun fact: All three have November birthdays! We decided to plant roots here in Olathe in February 2018; we closed on our house the week before the Parkland tragedy. While I have always been a voter, that horrific loss of life combined with our son's identification as being autistic prompted me to, as they say, get off the couch. I became and remain a mama on a mission. I want good governance and leaders who, as we tell our children, want everyone to have what they need, even if those needs are different for each one of us.
During the 2018 election, I knocked on hundreds of doors, made dozens of phone calls, and found a robust community of like-minded, compassionate friends and neighbors here in Olathe. I became a key volunteer in 2019 rather than a precinct leader because my neighborhood was already well taken care of.
I managed Dean Vakas's campaign for Olathe City Council in 2021 and am currently the Finance Director for Mike Kelly's campaign for Chair of the Johnson County Board of Commissioners.
Earlier this year, I helped form Freedom to Learn, a Kansas political action committee dedicated to saving our public schools, with other concerned parents and community stakeholders.
It's Time to FLIP IT BLUE!
Come celebrate freedom with us at our annual Flip It Blue event, JCDW South's biggest annual fundraiser! The money we raise at this event will go to amazing Democratic candidates right here in Johnson County who are running to preserve freedom and democracy for all Kansans.
This year, we will be joined by candidates running in the 2022 election including Sharice Davids, Lynn Rogers, and Chris Mann!
Our last Flip it Blue brought in over $6,000 for candidates, and this year, we hope to make it even bigger and better. That's why we're pulling out all the stops: we'll have cotton candy, balloons, prizes, and a fabulous raffle. Dinner (via Mexican food truck), water, and soft drinks are included in the cost of your ticket.
Our THEME is patriotism, so come in

red

,

white

, and

blue

. Feel free to get competitive; prizes will go to the most patriotic outfit.
When: Saturday, July 9th from 4-8 PM
Where: Sar-Ko-Par Trails Park and West 87th Street Parkway, Lackman Rd, Lenexa, KS 66215
Tickets
Member: $25
Nonmember: $30
Child Under 10: $15
We strive to make this event as family friendly and inclusive as possible, but if you can donate a bit more, we welcome your contribution and honor your efforts to help move Kansas Forward. Special recognition will go to those who donate at the following levels (unless you request anonymity):
Sapphire: $50
Royal: $100
True Blue: $250
Note: You may buy more than one ticket at a time, but you will have to do some math. For example, two member tickets plus one child ticket = $65. Please indicate the # and type of tickets you are purchasing in the tickets field. (ie: 2 adults and 1 child)
Come for the food, the fun, and the fellowship. Together, we can flip Kansas BLUE!
Never Again
Long before Roe v. Wade was decided in 1973, desperate women sought solutions to seemingly impossible problems. And there have always been ways, especially for those with means. In the years before the landmark Supreme Court decision, the nation was a patchwork quilt of restrictive abortion laws that had an outsize impact on poor, disadvantaged women without the ability to travel. Those poor women, disproportionately women of color, also sought solutions, but with far more frightening and evocative results. To this day, though it was hardly the only sharp implement used, the coat hanger is symbolic of a long and bloody fight for freedom sometimes waged on the corpses of women whose self-inflicted or back-alley abortion took a deadly turn.
Those days are not over. Once again, the nation is fragmenting, with unequal abortion laws from state to state putting undue burdens on women who cannot drive or fly halfway across the country. Women from Texas were fleeing to Oklahoma, but now Oklahoma has shut its doors. Where will they go next? Here, to Kansas? Our rights, too, are in jeopardy.
Make no mistake: the coat hanger abortion is not a thing of the past. In 2015, a Tennessee woman, unable to obtain a safe, legal abortion due to her state's restrictive laws, used a coat hanger on herself to terminate her pregnancy. She was jailed for more than a year before finally being released, all because she could not seek the medical care she required.
When JCDW chose the hanger and the slogan "Never Again" to put on our merchandise, it was intended to evoke a response, to remind us all of what's at stake. Our freedoms, our health, our very lives are at risk.
But let's not forget, too, that most of us at JCDW are privileged. Should this constitutional amendment pass and our access to abortion be denied, many of us can fly to New York or California or even Canada (assuming the need is non-urgent). What about our friends? What about our neighbors? What about the poor women, who are still disproportionately women of color?
Protecting every woman's rights is a central tenet of the National Federation of Democratic Women, the Kansas Federation of Democratic Women, and Johnson County Democratic Women. This is why we have taken up the Kansas Constitutional Amendment fight, and why you can count on us to have the health and well-being of every woman in Kansas at heart.
2022 Kansas Federation of Democratic Women Convention in Topeka
We had a fabulous time at the Topeka Country Club. Around 50 women were there discussing the political divide, campaigning, fundraising, and more. The camaraderie was amazing. We heard from Usha Reddi, Kansas Democratic National Committeewoman, Senator Carol Alvarado as well as Barbara Bollier, and capped the day off with Sharice Davids!
*The Third Congressional District will be hosting the convention next year, so save the date!
April 28-30, 2023
Shortly after the August primary, we will begin looking for volunteers for the Convention Committee, so stay tuned!
Banned Book Brunch
Gayle Asher will lead our discussion on the 1619 Project – through Chapter 12. Saturday May 7th, from 11-1. The 1619 Project explores the history of slavery in America and its countless toxic consequences. We'll be discussing Undemocratic Democracy and Medical Inequality as well as others. If you haven't started, you can have time to grab a copy and catch up.
About Us
Johnson County Democratic Women North and South are part of the Kansas Federation of Democratic Women, which is part of the National Federation of Democratic Women.
Our mission is to empower women to run for office and to support the election of like-minded Democrats to state and local office. We do this through education and training, but especially through donations to qualified candidates. Your financial donation to either of our organizations will go directly to Democratic candidates running in Johnson County.
Donate Today!