We are the Johnson County Democratic Women, North and South
We are sister organizations, working together to engage women in politics and help get Democrats in Johnson County elected
North ZOOM Meeting
Thursday, November 5, 2020
Come at 6:30 to socialize or at 7:00 for the meeting!
Special Guests Ben Meers, Executive Director of the KS Democratic Party and Chris Reeves, our DNC Representative
Join us to discuss the critical 2020 election!
South ZOOM Meeting
Thursday, November 19, 2020
Come at 6:00 to socialize or at 6:30 for the meeting!
Special Guest: Tammi Watkins
Tammi Watkins is Nurse Practitioner with a board certification as an advanced practice registered nurse in hospice and palliative care. She has 20 years of experience in hospice and palliative care; with the last 7 years as a nurse practitioner. She obtained her Bachelor's degree of Science from Mid America Nazarene University and her Master's of Science degree from University of Cincinnati. She is currently an APRN with KC Hospice and Palliative Care where she cares for patients in various settings providing hospice and palliative care.
If you have a mail-in ballot that you have not yet returned, experts suggest that you don't send it through the post office this close to the election. Instead, drop it off at the election office or at one of the drop boxes scattered throughout the county. You can find a list of locations here.
As a JCDW member, it's almost certain that you either have voted or have a plan to vote. Yet others in your life might not be as energized. So let's all take a page from the airplane safety manual. First, secure your own mask (make sure you've voted), and then assist anyone who might need it.
The Johnson County Election Office is reporting record early turnout, but this isn't over yet. If you're not sure how to help, contact the local candidates on your ballot — some of them will be phone banking all the way to the end. It's time to finish strong!
PSA About Vote Counting by Anita Parsa, local voting advocate
Counting ballots after the polls close isn't "flipping" the election; it is how elections are legally conducted in a number of states.
On Election Day, be patient.
Every ballot received in compliance to local election law must be counted, and in some cases close races may not be called for several days due to heavier than usual use of absentee ballots.
Some races can be called easily on election day if the number of outstanding absentee ballots is less than the margin of in person votes on election day.
Closer races could take several days to call, and this will vary from state to state because each state's election law provides for a different amount of time after election to count all votes and certify final results.
They range from one week to count/certify results to about a month after election.
News organizations "call" elections on election night but those are predictions, not official certifications.
Just under half of states count absentee ballots before Election Day or during the day on Election Day (green dots below) before polls close.
The process is unfortunately especially messy in Pennsylvania which is critical swing states in the Presidential election. Because of the way ballots are being counted in Pennsylvania, there could be wild swings in reported vote tallies.
So again, be patient on Election Day or election week or whatever it ends up being. Don't use garbage sources.
And be very, very, very skeptical of anyone who tries to claim that ballots delivered to election officials in accordance with local election law should not be counted.
That's un-American.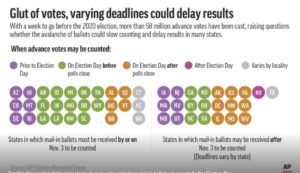 See You on the Other Side
By Hollie Niblett
I just finished reading the latest Vox article featuring three women activists from Johnson County, Kansas. Perhaps you know one or all of them. I suspect you do, or you at least recognize the names. It was not only a shout out to suburban women everywhere who have been doing the foundational work required to win elections, but also a call to sustain and increase their political knowledge, their power, and to use it to shape the future. (see the full article Here).
We have created strong and critical social networks (now hubs of political and personal connections with not a small amount of local power), and made personal, lifelong friendships, all in the name of reaching a common goal: taking and using power for good in our communities. I wonder if women (those like you and me) had more power and influence than we realized all along.
I recently mentioned to a friend that the realm of politics was now my church. Most of the women I know today I know through political activism as the sole social connector between us. She agreed that the analogy was a logical one. We are people with shared values who want to see those values enacted in the world. Yes, I said. Exactly. She went on to explain a concept by Brene Brown she'd heard on a podcast about power in communities, where Brene discusses the difference between "power over" and "power with."
"So with power over, the goal is to leverage fear, to divide, destabilize, and devalue decency as a sign of weakness and for suckers. Really, being decent is seen as weakness, and the goal is to divide and destabilize because it's how you maintain power, which you have to do when you believe it's finite. When we talk about power with, and power to, shared power, the goal is to leverage connection and empathy to unite and stabilize, and actually, it's interesting, because decency is valued and seen as an actual function of self-respect and respect for others."
In a culture of pervasive misogyny and patriarchy, we are learning how to cast aside old ideas and norms about female power. We've only had the right to vote for a few generations. Black women for even less time, so we are behind the eight ball in the art of wielding power. But together, we are learning. Finally, the old ideas about women, politics and power have gone the way of the corset. Standing on the shoulders of all the women who came before us, we are now mo re confident than ever before about demanding our seat at the table.
I have a confession to make. I understood the meaning of words like racism, sexism, homophobia, misogyny, xenophobia, and patriarchy. I read books and watched documentaries. I took history class in college. But I'd never felt what it meant in my bones before. I'd never felt it running down my cheeks before. I'd never woken up from nightmares because of it.
I don't think I'd be alone in admitting to a slight case of the Dunning-Kruger Effect; before 2016, I thought I knew way more than I actually did. But I've learned. We all have. The following are some details about our government, political structure, history and culture I'm embarrassed to admit I wasn't entirely aware of prior to that fateful November day:
I didn't know the House of Representatives, State and US, were up for reelection every two years. Now that I do know, I think it's a stupid idea. I mean, who has time to govern when you can never stop campaigning (Admittedly, this is only a bad idea because of our current campaign finance laws, something we obviously need to fix)?

I only had a vague notion of how my local party politics worked. I did not understand how crucial neighbor-to-neighbor and precinct-level involvement were to gain power and make changes. I did not know who the leaders of my local and state party were. Like so many of us, I've learned not only the structure of the Party, but I personally know most of the people involved in the Democratic Party in my area. This has made me a more effective organizer and a more informed voter, as well as a source of information for friends and family.

Voting apps, campaigning apps, email marketing, campaign strategy, finance reports, database management, newsletters, Zoom links, social media advertising, online registration, event management, chat rooms, private pages, public pages, oh my! I've seen a lot of brave tech learning going on in surprising corners. Go us!

My 2015 self was less aware of all the small and large ways patriarchy and white supremacy were a part of the founding of our country, continuing to spin their lies, and just never seeming to loosen their fists around our collective throats. The two are inseparable: feeding each other and dependent on one another. The Dark Twins. Ushering a known sexual assaulter, serial womanizer and known racist (I still get a cold, dark feeling when I realize that all of these atrocious qualities belong to the same person) into the White House, layered in with the Me Too and BLM movements, has at last peeled my eyes open to how toxic our culture is. I didn't wake up to this realization in a general sense, but in a deep and personal way. It was a visceral awakening. It was a rebirth.

Communication, leadership, strategizing, voting rights and laws, organizing, history. How many books, articles, documentaries and videos have you watched on these topics in the last few years? How much better are you at being a positive communicator, a servant leader, an effective volunteer? How much more informed are you about our government and how we got here? Me too, Sister.
I could go on about the things i didn't know or don't know or should know, but to save myself some embarrassment I'll stop there (One can only be so vulnerable, after all, Brene).
So that's where we've been, and thinking about where we've been begs the question- where do we go next?
I've seen some comments and questions about the future of the movement. I know people are thinking about it, and some are undoubtedly planning for it. As most of us very wisely keep our noses to the grindstone, doing the real work of turning out every possible vote
, in a few days we will need to have some idea of where we want to go from here. How do we want to use our newfound power, skills and knowledge? How do we keep working towards our lofty goals? And when, someday, we see our dreams of a better world become a reality, how do we ensure that the women after us never fall asleep again? That they never take their eye off the ball? How do we communicate that the fire must burn forever and ever? That the torch must be passed, no matter who wins this election?
I recently learned about a Liberian woman named Leymah Gbowee, a Nobel Peace Prize winner. She was a social worker, a peace activist, a women's rights advocate. In spite of not being monied or connected, and having no formal political power, she nevertheless stopped a devastating civil war and saved countless lives. She believed it was women's responsibility to proactively work for peace, which led her to bring Christian and Muslim women in her country together to form the Women for Liberia Mass Action for Peace (read all about Leymah HERE). The following are some details from one of her peace demonstrations:
"…At a crucial moment when the talks seemed stalled, Leymah and nearly 200 women formed a human barricade to prevent Taylor's representatives and the rebel warlords from leaving the meeting hall for food or any other reason until, the women demanded, the men reached a peace agreement. When security forces attempted to arrest Leymah, she displayed tactical brilliance in threatening to disrobe – an act that according to traditional beliefs would have brought a curse of terrible misfortune upon the men. Leymah's threat worked, and it proved to be a decisive turning point for the peace process…"
This story of a small group of women with nothing more or less significant than their courage and their own bodies to end a ruthless war is one of many treasures I keep close to help me hold onto hope. Holding onto hope. I've heard it called a discipline. I think it's also an essential ingredient for any successful movement.
As THE DAY approaches, the day we've all been thinking about, worrying about, dreaming about, for 4 years, I see a lot of hope mixed with realization that the fist gripping our country's throat won't go away quietly or peacefully, regardless of the outcome of the election. Unlike 2016, we know to prepare for the worst, and we are ready. We are no longer the women who thought our corner of the world was, at the end of the day, an ordered and safe place. The women who thought the big battles for civil and human rights had been fought and mostly won. The women who spent some time with the covers pulled over our heads crying when the reality of the 2016 election became obvious (even the stoics among us cried).
Armed with knowledge and political power, what do we reach for next? Is there something we as women have been called to achieve that is unique to us? Perhaps fully funded public education, mandatory family leave, affordable childcare and a country where no child goes hungry are problems that have been waiting for us to fully address and finally fix. Would it be possible to help heal our nation by bringing women of all political stripes together in a way men have not been able to or refuse to do among themselves? Will we use our networks and political force to achieve something never seen or dreamed of before? I hope so.
I have another confession to make. No matter the outcome next week, I'm going to cry. But this time, I won't be crying alone. Instead, I'll be crying with the flame keepers, the breast beaters, the human shields, the torch bearers, the hope givers, and the power seizers.
Whatever we decide to do as we move into the next chapter of this story, I think we can all agree on who we are, a strategic advantage by every measure. I'll see all you Power Seizers on the other side.