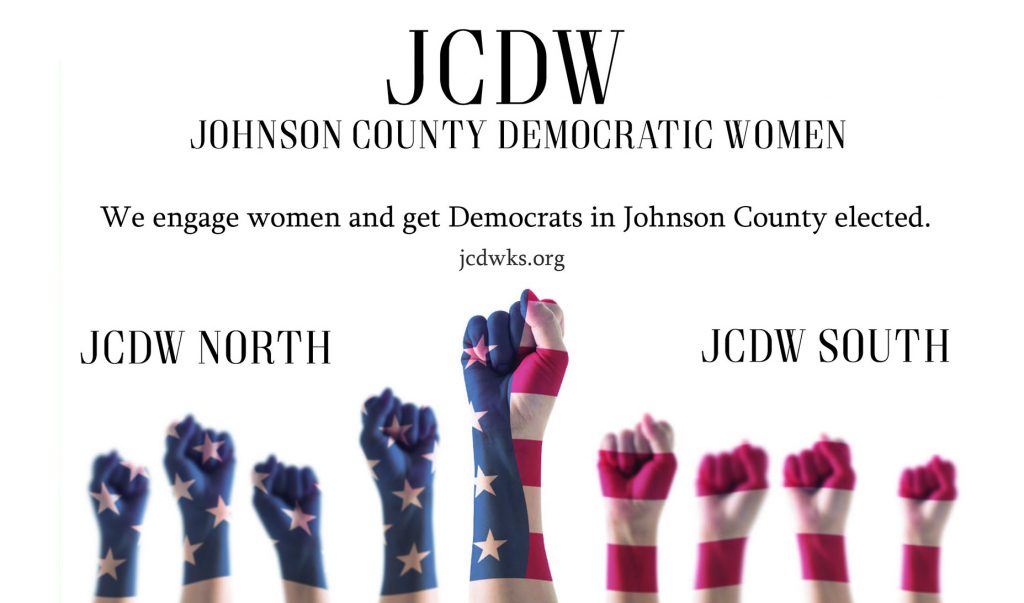 We are the Johnson County Democratic Women, North and South
We are sister organizations, working together to engage women in politics and help get Democrats in Johnson County elected.
North Hybrid Meeting
Thursday August 5, 2021
Location: Hybrid
In person at Bistreaux
8725 Metcalf Ave, Overland Park, KS 66212 (please wear a mask)
Come at 6:00 to socialize or at 6:30 to hear from our speaker.
Special Guest: Senator Ethan Corson
On August 5, Ethan Corson will speak at the JCDW North meeting about unions, laws that have been passed that have weakened unions, and laws we could pass to strengthen them. Collective bargaining could increase wages and benefits for workers, reducing the need for social safety nets.
Ethan is serving in the Kansas State Legislature for Senate District 7. Over the course of his career, Ethan has worked at the highest levels of law, government, and politics.
He served as Executive Director of the Kansas Democratic Party from August 2017 to August 2019, leading the Party through its most successful election cycle in a decade, including the election of Governor Laura Kelly and Congresswoman Sharice Davids.
Prior to serving as Executive Director, Ethan was appointed by President Barack Obama to two senior leadership positions at the U.S. Department of Commerce.
Before entering government service, Ethan practiced law for seven years in the Washington, D.C. office of one of the country's top law firms, focusing his pro bono practice on voting rights litigation and earning recognition as a "Rising Star" by Super Lawyers magazine.
South In Person Meeting
Thursday August 19, 2021
Location: Johnson County Democratic Party Office — 8971 W 75th St, Overland Park, KS 66204 (in person only; please wear a mask)
Come at 6:00 to socialize or at 6:30 for the meeting.
Special Guest: Dr. Tina M. Ellsworth
On August 19, Dr. Tina M. Ellsworth will speak to us about combating misinformation and supporting schools.
Dr. Tina M. Ellsworth is an Assistant Professor of Education at Northwest Missouri State University. She holds a BA in Secondary Education, an MA in History and a PhD in Social Studies Education. She has taught middle and high school social studies, taught under/graduate education courses, served as an economic education specialist at the Federal Reserve Bank of KC, and as a K12 Social Studies Coordinator. She serves on the Board of Directors for the National Council for the Social Studies and is the 2019 National Social Studies Supervisor of the Year. She is published in Social Education, Social Studies and the Young Learner, Theory and Research in Social Education, among others and presents at national and state conferences. Her research interest includes teacher education, teaching with primary sources, and racial pedagogical content knowledge. Dr. Ellsworth and her husband reside in Platte City with their two children.
Important Meeting Location Information
SOUTH:
In August, JCDW South will be meeting at the JoCo Dems Office at 8971 W 75th St, Overland Park, KS 66204. This is a temporary location — we are working on finding a new permanent home for our return to in-person meetings. Watch the newsletter, FB, and your e-mail for updates.
NORTH:
In August, JCDW North will have a hybrid meeting, meaning you can either ZOOM in or join us in person at Bistreaux, 8725 Metcalf Ave, Overland Park, KS 66212.
Until further notice, masks are required for all indoor, in-person events.
Vaccinations are strongly encouraged.
Let's Flip It Blue!
On August 7th from 4-8 PM, we're going to Flip It Blue! Join us at the Grand Pavilion at Sar-Ko-Par Park in Lenexa, KS, where we'll have food, music, prizes, and games for the whole family. Tickets are a $25 donation in advance or $30 if you wait until August 7th. Kids under 10 are $15.
Check out these highlights: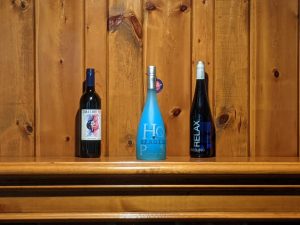 Bring on the blue! Consider this to be your official challenge to wear as much blue as you can. Dye your hair. Paint your nails. Add some bling. The bluer the better! And if bragging rights are not motivation enough, there are prizes (pictured) for the best three outfits.
Thanks to some of our generous members, we've got fabulous raffle items to offer! There's a one-hour massage at Key To Massage, two pies from the Pie Goddess (raffle separately), two wine baskets, a Cate Eighmey photo package, a Junque Drawer basket, a beautiful hand-made quilted travel bag made by Melba Nicolaisen, and more to come. Raffle tickets cost $2 each (buy 5, get 1 free), but you can get one raffle ticket for free if you wear one of our JCDWS 100th Anniversary t-shirts. (It's blue — so you can work it into your outfit!.)
T-shirts cost $15 and will be on sale at Flip It Blue. (Yes, buying a t-shirt at the door will get you a free raffle ticket.)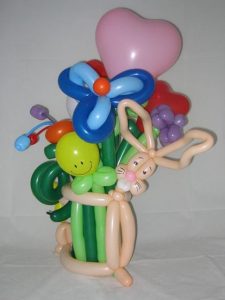 The Amazing Christopher will show off some of us fabulous balloon creations! This is truly a reason to bring the whole family, including the kids and grandkids. This man is talented — it was almost impossible to choose just one picture from his Facebook page.
The event space is also adjacent to a fabulous playground with slides big enough for teens as well as options for the little ones. To help with the heat, we will have water guns available (for kids or adults).
Food. Fun Fellowship.
One of the best reasons to come to these events is to connect with candidates, elected officials, party leaders, and like-minded Democrats in a casual setting.
Thank You, Governor Kelly
JCDW North is selling yard signs thanking Gov. Kelly. Signs may be purchased for $20 each at Jo Co Dems office, 8971 W 75th St. JCDW members get a 50% discount if you buy your signs before Labor Day!
North July Meeting Recap
On July 1, Megan McGee from Safehome came to the Johnson County Democratic Women North meeting. They are the only domestic violence center in Johnson County.
A note from Megan McGee:
I wanted to share this list with you and your group. I heard from so many interested people wanting to know what our needs are at Safehome. We are currently in need of new twin size sheets and comforters, as well as new towels and pillows. I have included a link below for you to share with your contacts. We appreciate the interest your group has shared in supporting the survivors and children living here at Safehome. This link will take you to our Amazon wish list for easy access to ordering online. We are ALWAYS in need of new towels and bedding. We provide the new items to our residents and we allow them to take them when they leave. Having these brand new items in stock makes a huge difference to our survivors.
Additional highlights include:
Safehome's core purpose is to provide a healing atmosphere where survivors of domestic violence can gain inner strength, explore options, and be empowered to live a life free of abuse. Safehome strives to break the cycle of domestic violence and partner abuse for victims and their children by providing shelter, advocacy, counseling, and prevention education in our community.
Domestic violence is a pattern of physical, emotional, sexual, and economic abusive behaviors used by one individual to maintain power and control over a partner in the context of an intimate or family relationship.
1 in 3 three women and 1 in 7 men will experience domestic violence in their lifetime.
Services include, free of charge:
24 hour crisis hotline
Emergency shelter
Clinical counseling
Legal assistance
Case management
Healthcare advocacy program
Lethality assessment
Healthcare navigation
Economic education
Bilingual outreach
24 hour hospital response
DCF Dept of Family Services
Housing
On-site child care
Domestic violence is a significant cause of homelessness in Johnson County. 58% of homeless adults in JO Co have experienced domestic violence. Lack of affordable housing creates additional barriers to survivors as they work to achieve independence.
Get involved:
Be the Love with Safehome
Event committees
Volunteer opportunities
Young Professionals Board
Donate financially or via essential needs list on website
South Meeting Recap
We had a wonderful time with Juliet Sinclair discussing what's happening in Wuhan.
Wuhan lies on the Yangtze River and is a hub for cross country railroad lines. It's been at the center of many battles, one of which pushed the Yangtze River south by 100 miles and killed over 15 million people. Today, Wuhan is considered the "Chicago" of China with its bustling infrastructure and technologies.
Wuhan is also famous for building two GIANT hospitals, God of Tender Hill and God of Fire Hill, in just ten days! Wuhan kicked the virus in ten weeks by:
• isolating anyone with mild and moderate symptoms
• contract tracing with high compliance
• using social media tools to display health codes
•having drones mock those without masks
As of April 8, 2020 they returned to normal life. In June 2020, Wuhan tested 11 million people in ten days and had zero cases. This stands today.
"Wuhan is doing fine. I'm worried about America. Democracy is precious. I knew what it was like without democracy – I
About Us
Johnson County Democratic Women North and South are part of the Kansas Federation of Democratic Women, which is part of the National Federation of Democratic Women.
Our mission is to empower women to run for office and to support the election of like-minded Democrats to state and local office. We do this through education and training, but especially through donations to qualified candidates. Your financial donation to either of our organizations will go directly to Democratic candidates running in Johnson County.
Donate Today!