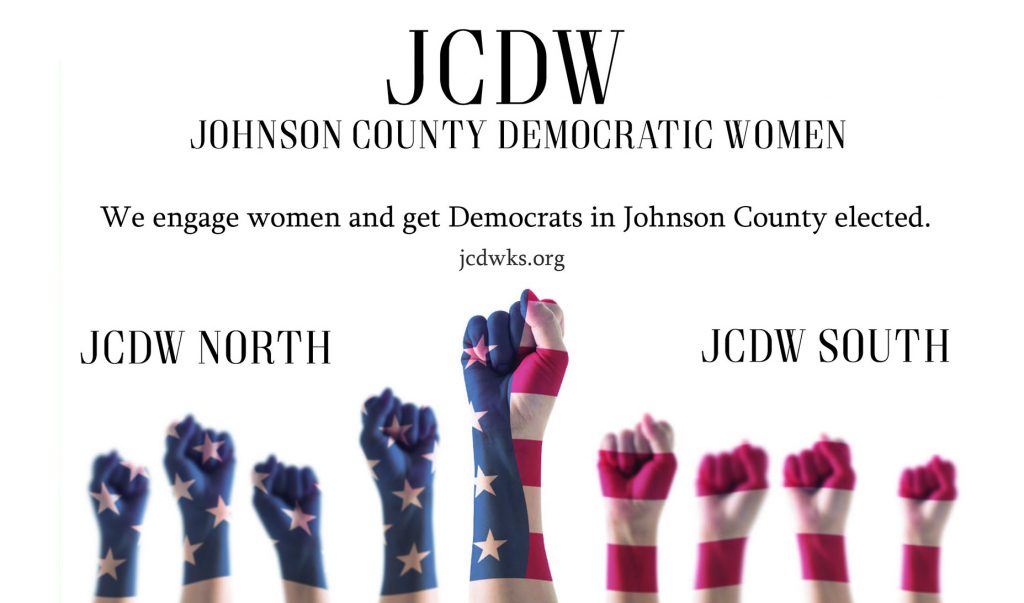 We are the Johnson County Democratic Women, North and South
We are sister organizations, working together to engage women in politics and help get Democrats in Johnson County elected.
North ZOOM Meeting
Thursday September 2, 2021
Location: Online Only
Come at 6:00 to socialize or at 6:30 to hear from our speaker.
This month we will hear from a panel of local candidates running in the November 2021 election.
South ZOOM Meeting
Thursday September 16, 2021
Location: Online Only
Come at 6:00 to socialize or at 6:30 for the meeting.
Special Guest: Senate Minority Leader Dinah Sykes will speak to us about redistricting
Senator Dinah Sykes is serving her second term in the Kansas Senate and her first as Senate Democratic Leader. She is the ranking member on the Senate Committee on Education and the Vice-Chair on the Senate Committee on Confirmation Oversight. Prior to her election in 2016, she ran her own business as a personal chef and worked as a development officer in higher education. She is a graduate of Trevecca Nazarene University in Nashville, Tennessee, where she earned her BA in Business Administration with minors in finance and economics. Dinah has been active in her community and has a passion for serving others. She has served as PTA treasurer, PTA president, on the Kansas Children's Cabinet, and is a member of Lenexa Rotary Club. Dinah lives in Lenexa with her husband, Jeffrey, and their sons, William and Tyler.
2021 Candidate Endorsements
Johnson County Democratic Women, North and South, are proud to announce our list of endorsements for the November 2021 local elections. These are nonpartisan races, but the candidates we endorse are members of the Democratic Party who uphold our values and principles. In order to earn an endorsement, a candidate must be an active member of either JCDW North OR JCDW South, must have the support of the party, and must be working hard to raise money, recruit volunteers, and earn votes.
Blue Valley School Board: Gina Knapp
Desoto School Board: Calley Malloy
Fairway City Council: Susan Leonard
Gardner Edgerton School Board: Stacey Coleman
Lenexa City Council: Melanie Arroyo
Mission Mayor: Sollie Flora
Merriam City Council: Amanda (Amy) Rider
Olathe City Council: Dean Vakas
Olathe School Board: Julie Steele
Overland Park City Council:
Prairie Village City Council:
Roeland Park Mayor: Mike Kelly
Roeland Park CIty Council: Tom Madigan
Shawnee City Council:
Shawnee Mission School Board: April Boyd-Noronha
JCCC Board of Trustees:
WATERONE:
FLIP IT BLUE
THANK YOU to everyone who came out to Flip It Blue. We raised about $6,000 to give to candidates. All of that money is going to the candidates we endorsed THIS YEAR (see above) – so give yourselves a big round of applause!
Congratulations to the winners of the "Most Blue" contest: Tiff White won (of course…see pictures), Jesse Day took second, and our own Christine Morgan took third. Thank you to ALL who participated and to our judges (who should wear blue next year to avoid those balloon hats): Lori Slettehaugh, Teresa Wickersham, and Angeliina Lawson. Thank you to all the contestants and especially to Christopher the Amazing Balloon Man for providing the hats!
Thank you, too, to all those who made our raffle a fabulous success. We had Meg's beautiful wine baskets, a BBQ Pit, Pie Goddess Pies, signed history books, two massages, photography, beautiful bags, and many, many other items – we couldn't have done this without you: Meg Shimmels, Cate Eighmey, Melba Nicolaisen, Allison Hougland, Kelly Stromberg, Angelina Lawson, Crystal Davids, Carol Shimeall, and Gayle Asher.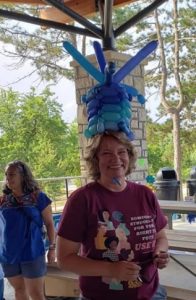 Lastly, a very special thanks to Executive Director of Kansas African American Affairs Commission Stacey Knoell, Minority Leader Dinah Sykes, the distinguished Doctor Barbara Bollier, and the Great Kathleen Sebelius who all donated lunches for our Silent Auction. Ladies, it means everything to us we have you on board!
North August Meeting Recap
On Aug 5, JCDW North welcomed KS Senator Ethan Corson, who spoke about the value of labor unions. Union workers tend to make better salaries and have better benefits than non union employees. Kansas is a Right to Work state so union growth is limited. The Democratic Party supports unions across the country.
South August Meeting Recap
On August 19, we hear from Dr. Tina M. Ellsworth about combating misinformation in school and supporting our students.
We also welcomed Juliette Sinclair to our JCDW South board! She will be taking over the position of Fundraising Vice President — stay tuned for details about an upcoming fall fundraiser just after the election.
Fighting the Abortion Amendment with Planned Parenthood Great Plains
We have two opportunities to connect with Planned Parenthood to prepare for the amendment fight in 2022:
September 1 organizational meeting presented by PP (see link in the invitation below).
October 7, Johnson County Democratic Women North will have Planned Parenthood's Leslie Butsch come to our meeting.
An invitation from Planned Parenthood:
Over here at PPGP we've been keeping busy:
We're planning out our organizing work to defeat the constitutional amendment that would remove the right to abortion from the Kansas constitution in August 2022.
We're on the phone, calling supporters like you, to connect and hear what your community needs to join the fight for reproductive freedom.
We've been keeping tabs on the things that intersect with our work, including the Kansas redistricting town halls, threats to Roe v. Wade, and Texas' SB 8, which would effectively ban abortion in the state — including a terrifying provision that debutizes private citizens to "enforce" the law.
In exciting news, we've scaled up our team, adding Rachel Stoutamire and Leslie Butsch to the organizing team, who cannot wait to connect with you!
That's why we're inviting you to our virtual Meet Your Organizers event at 6 p.m. on Wednesday, Sept. 1! Join us on Zoom to meet the team, learn about our current political moment, and hear our invitation to help build a better future in Kansas together.
Register for the event here, and don't forget to send this link to three of your friends!
See you on Wednesday,
Leslie Butsch
Advocacy and Organizing Manager
Planned Parenthood Great Plains Votes
About Us
Johnson County Democratic Women North and South are part of the Kansas Federation of Democratic Women, which is part of the National Federation of Democratic Women.
Our mission is to empower women to run for office and to support the election of like-minded Democrats to state and local office. We do this through education and training, but especially through donations to qualified candidates. Your financial donation to either of our organizations will go directly to Democratic candidates running in Johnson County.
Donate Today!