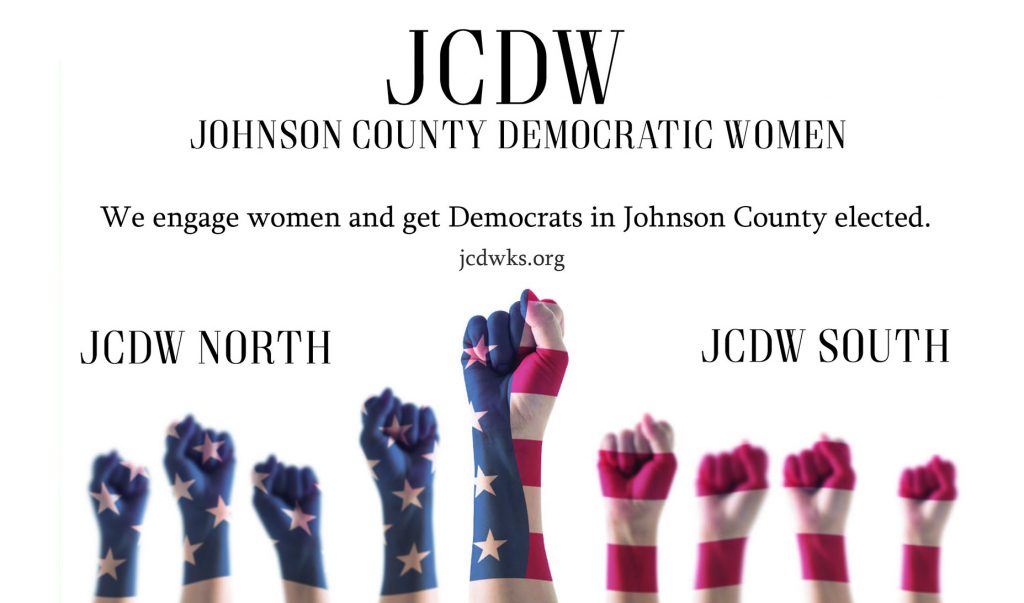 We are the Johnson County Democratic Women, North and South
We are sister organizations, working together to engage women in politics and help get Democrats in Johnson County elected.
North ZOOM Meeting
Thursday, Feb. 4, 2021
Come at 6:00 to socialize or at 6:30 to hear from our speaker
With Special Guest: Nebraska Democratic Party Chair Jane Kleeb
Jane Kleeb is an experienced grassroots organizer, manager, political strategist and nonprofit entrepreneur. Recently profiled by PBS in a film called "Blue Wind on a Red Prairie," Jane is a leader who deeply understands the need to connect issues that rural and urban communities are facing to politics in order to win elections in Nebraska. Jane Kleeb started her term as the Nebraska Democratic Party Chair in December 2016.
Leading the statewide healthcare reform project called Change That Works, Jane brought together grassroots advocates and allied groups such as AARP and Nebraska Appleseed. While more work must be done to bring down the costs of healthcare for families, the effort was successful in helping ensure pre-esxiting conditions are a thing of the past and that all Nebraskans have access to health care. In 2010, Kleeb founded the grassroots group Bold Nebraska leading farmers, ranchers and Native allies in an effort to stop the Keystone XL pipeline. Jane's organizing style earned her the title "Keystone Killer" and she was featured in the NY Time Magazine. Bold Nebraska expanded into the national Bold Alliance focusing on protecting property rights, water and the clean energy transition.
She wrote the book, "Harvest the Vote – How Democrats Can Win Again in Rural America" which was released in September 2020. (Keep reading for book details.)
South ZOOM Meeting
Thursday, Feb. 18, 2021
Come at 6:00 to socialize or at 6:30 for the meeting!
With Special Guest: Barbara Bollier, who will discuss the KS Abortion Amendment
Barbara Bollier attended Shawnee Mission Schools, KU, and University of Kansas School of Medicine. Following medical school graduation, she did a residency in Anesthesiology at Baylor College of Medicine in Houston, Texas.
During medical school she married Rene Bollier, a fellow SME grad and medical student. They have two grown children, Anne-Marie and Robert.
After 15 years of medical practice, Barbara became an active community volunteer. Her work included mentoring a student from 2nd grade through high school graduation, serving as an Elder at Village Presbyterian Church, serving on the board of the KUMC Alumni Association, and teaching bioethics for the Center for Practical Bioethics at KCUMB.
Barbara was elected to the Kansas House in 2010, followed by the Senate in 2016. She just completed a run for US Senate. During her time in the legislature, she was a champion for Medicaid expansion, education funding and policy, and women's rights.
Virtual Game Night Fundraiser
It's time to PLAY!
JOCO Dem Women South invites you to GAME NIGHT, an evening of fun, fantasy, cards, and laughter. Join us for ZOOM Rooms where you'll find Cards Against Humanity, You Don't Know JACK, HASBRO, and others!
When: February 20, 2021 from 6-9 PM
Where: ZOOM
$15/single ticket
$20/two tickets
Only $10 per ticket after that
After donation you will receive two links – the Survey Monkey link for registration and the ZOOM link for entry.
Our Time is Now by Stacey Abrams Book Discussion
When: February 13, 2021 2-4 PM
As part of our year of ACTIVISM, JCDW South is hosting a book discussion to talk about how we can apply the wisdom of Stacey Abrams to Kansas. This discussion is absolutely FREE and open to anyone who wishes to attend.
The book is available in hardback, ebook, and audiobook.
South January Meeting Update
I'd like to thank everyone who joined our first meeting of 2021. We had a wonderful turnout of over 60 people! If you attended, we'll make sure you're matched with your Precinct Leader, even if the PCL wasn't available for the meeting.
What we learned from Melissa Stiehler of Loud Light is that it's all about that base. Grass-roots organizing is how we're going to turn Kansas blue. It's all about you and your neighbors. We also talked about the enthusiasm you are all bringing to JCDW and how much work we still have to do.
My vision for 2021 is ACTION.
There is A LOT going on this year – even with it being an "off" year, and we need your help to succeed. Every month, we're going to have actions for our members to do, starting with a quick and easy one – fill out the survey with your top 5 issues. We'll use this information to schedule future programs and actions.
https://www.surveymonkey.com/r/FQZLBWC
We're also looking for people to join posses – friends will help us send e-mails to legislators, push our agenda through FB or Twitter, and deliver signs. Fill out the form below with your areas of interest:
https://www.surveymonkey.com/r/F28ZZPJ
Now is not the time to dawdle.
See you online soon!
Cassie Woolworth
JCDWS President
North January Meeting Update
We had Stephanie Clayton come to our JCDW North meeting in January to talk about the return of the Kansas Constitutional Amendment Bill that would ban abortion in Kansas, with no exceptions for rape, incest, or life and health of the mother.
As of today (1/26), the bill, HCR 5003, passed the House on a party line vote, 38-86. Now it goes to the Senate where it is expected to pass with the 2/3 necessary vote. Governor Kelly cannot veto it. The bill names the August 2022 primary as the election to appear on the ballot.
Harvest the Vote
From Democratic Party rising star Jane Kleeb, an urgent and stirring road map showing how the Democratic Party can, and should, engage rural America
The Democratic Party has lost an entire generation of rural voters. By focusing the majority of their message and resources on urban and coastal voters, Democrats have sacrificed entire regions of the country where there is more common ground and shared values than what appears on the surface.
In Harvest the Vote, Jane Kleeb, chair of Nebraska's Democratic Party and founder of Bold Nebraska, brings us a lively and sweeping argument for why the Democrats shouldn't turn away from rural America. As a party leader and longtime activist, Kleeb speaks from experience. She's been fighting the national party for more resources and building a grassroots movement to flex the power of a voting bloc that has long been ignored and forgotten.
Kleeb persuasively argues that the hottest issues of the day can be solved hand in hand with rural people. On climate change, Kleeb shows that the vast spaces of rural America can be used to enact clean energy innovations. And issues of eminent domain and corporate overreach will galvanize unlikely alliances of family farmers, ranchers, small business owners, progressives, and tribal leaders, much as they did when she helped fight the Keystone XL pipeline. The hot-button issues of guns and abortion that the Republican Party uses to wedge voters against one another can be bridged by putting a megaphone next to issues critical to rural communities.
Written with a fiery voice and commonsense solutions, Harvest the Vote is both a call to action and a much-needed balm for a highly divided nation.
JCDW South Proposed New Bylaws
Dear Members,
On February 18th, 2021, at our third Thursday meeting, we will vote on a proposed new set of bylaws for JCDW South. These new bylaws would significantly change the structure of our board and, as a result, will create some extra work during the transition. We feel that these changes are necessary, and that they will make us a better organization, one more answerable to our members.
To summarize the key changes:
1. Instead of a board consisting of four elected Officers and four appointed Chairs, we will have seven elected Officers. The new Officers will be:
President
Vice President of Fundraising
Vice President of Membership and Retention
Vice President of Programming
Vice President of Communication
Treasurer
Secretary
2. Each Officer will serve a two-year term. The President, Vice President of Fundraising, Vice President of Communication, and Secretary will be elected at the Annual Membership Meeting in January of odd years. The Vice President of Programming, the Vice President of Membership and Retention, and the Treasurer will be elected at the Annual Membership Meeting in January of even years.
3. The woman nominated for President no longer needs to have been the Vice President. Any Active Member in good standing can be President.
You can see the full, newly proposed bylaws here:
https://jcdwks.org/jcdw-south-proposed-new-bylaws-february-2021/
You can see the current bylaws here:
https://jcdwks.org/bylaws/
These changes are essential for the continued success of JCDW South because:
1. The current bylaws require that the new President be the previous Vice President, and do not stipulate what would happen should that position be vacant.
2. The current bylaws set a one-year term for President, with no option for a second term, a pattern that virtually ensures our President will not have sufficient time to learn the position before being relegated to Past President. The new bylaws have the President serving a two-year term, with the potential for reelection should no qualified replacement emerge. The position of Past President continues to ensure continuity of knowledge.
3. The new bylaws further propose a system in which every member of the Board is elected by and answerable to the Members, making us more democratic (little 'd').The four Vice Presidents each take charge of duties previously filled by appointed Chairs while simultaneously empowering them to take such leadership roles as running a meeting in the absence of the President or representing our organization at other Democratic meetings. This is firmly in line with our mission to empower women to fill leadership roles.
*Should these bylaws pass, we will hold special elections to fill the newly minted Vice Presidential offices. (Per a motion made and approved at the January 2021 meeting.)
Please, e-mail any questions to jcdwsouth@gmail.com.
About Us
Johnson County Democratic Women North and South are pat of the Kansas Federation of Democratic Women, which is part of the National Federation of Democratic Women.
Our mission is to empower women to run for office and to support the election of like-minded Democrats to state and local office. We do this through education and training, but especially through donations to qualified candidates. Your financial donation to either of our organizations will go directly to Democratic candidates running in Johnson County.
Donate Today!
February 13 from 2-4 PM "Our Time is Now" Book Discussion
---
February 20 from 6-9 PM Game Night Fundraiser